Sherman Hesselgrave, Incumbent
Having grown up in a clergy household on the mission field in East Africa, the one thing I was certain I would never be when I grew up was a minister–I knew far too much about what happens behind the scenes, and besides, medicine and music were more alluring at the time. I was well along the path to becoming an academic librarian, working on my master's in musicology, when God's still small voice whispered the first hint of a call to Holy Orders. It happened during a sermon on the Magnificat (The Song of Mary) by Bishop Robert Appleyard during the December ordinations, and my first response was tachycardia and panic. I knew that running in the opposite direction historically has not worked particularly well (think Jonah or Moses), so after a year of discernment, my vocation to priesthood was confirmed, and I accepted the call. My spiritual formation continued at the Church Divinity School of the Pacific, one of nine member seminaries of the Graduate Theological Union centered in Berkeley, California. What a rich intellectual feast those three years were, studying alongside Lutherans, Jesuits, Presbyterians, Franciscans, Unitarians, Methodists, Dominicans, and Baptists. Following graduation, I was called to parish ministry in Portland, Oregon, and, until coming to Holy Trinity, served churches in the Pacific Northwest. As a priest and musician I am passionate about liturgy that engages and feeds. My other passion is for social justice, and Holy Trinity's long history of leadership in this arena is what first attracted me. One's vocation as a Christian is called forth from the DNA of the baptismal covenant, which includes promises to seek and serve Christ in all persons, to strive for justice and peace, and to respect the dignity of every human being. On a more mundane plane, I make a fierce Bucatini all' Amatriciana, prefer red zins, and my iPod includes an eclectic variety from Brad Mehldau, Keith Jarrett, and Franz Ferdinand, to Bach, Widor, Duruflé and Ligeti.
---
Margot Linken, Parish Administrator
Margot Linken is our parish administrator. She knows a lot about the history of Holy Trinity and the way things work on a day to day basis. She greets and helps direct visitors who come into our parish building (#10 behind the church) daily, offering hospitality on behalf of the community. She oversees the bookkeeping, schedules the care-taking staff and the use of parish facilities and relates to our tenants. She also has responsibility in the areas of property and office management, personnel, accounting and finance. She works closely with the Incumbent, Wardens, Property Elder, Treasurer, Assistant Treasurer, Envelope Secretary and Committee Chairs. Margot is an avid reader, walker and animal lover.
Clara Pasieka , Youth Ministry co-ordinator
Ryan Poole, Caretaker
---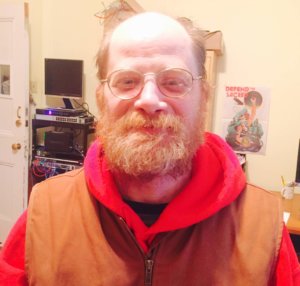 Doug Morris, Lead Caretaker
---