When:
March 17, 2019 @ 3:00 pm – 4:00 pm
2019-03-17T15:00:00-04:00
2019-03-17T16:00:00-04:00
Where:
Church of the Holy Trinity
19 Trinity Square
Contact:
Michael Erdman
416-578-6602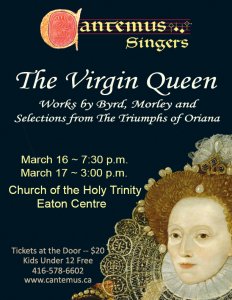 By the turn of the 17th century and after 40 years on the throne, Elizabeth I had clearly established herself as a strong monarch, having thwarted several uprisings, disposed of potential rivals such as Mary Queen of Scots, and crushed the Spanish Armada.  All this while remaining unmarried. 
In an era when a powerful unwed queen was almost unheard of, it is not surprising that a cult developed around Elizabeth's marital status, with poets and artists depicting her as a virgin or a goddess or both.  Musically, the culmination of this cult worship was a collection of 25 madrigals called the Triumphs of Oriana [Oriana was a poetic name used for Elizabeth], written in honour of the Queen in 1601 by Thomas Morley and 22 other prominent composers of the day.  The collection was modeled on a similar Italian collection called Il Trionfo di Dori (The Triumph of Doris), a set of madrigals assembled to commemorate the wedding, and celebrate the wife of a wealthy Venetian nobleman.
Join us on March 16th and 17th for our concert "The Virgin Queen", at which we will present selections of both collections and other famous English madrigals, as well as one of the most important religious works of the Elizabethan period, William Byrd's Mass for Four Voices.  Composed in 1592, likely for performance in private households that were secretly Catholic, it represents the brilliant culmination of the English Catholic musical tradition that was extinguished by Henry VIII and his Protestant successors.  The sublime Agnus Dei of this Mass is considered one of the masterpieces of the period.
Our concerts take place at the Church of the Holy Trinity, Eaton Centre on Saturday, March 16th at 7:30 p.m. and on Sunday, March 17th at 3:00 p.m.  Tickets are available at the door for $20 general admission, with children under 12 admitted free; or call 416-578-6602 to have tickets set aside for pick-up.
We hope to see you there!