When:
February 13, 2018 @ 7:00 pm – 10:30 pm
2018-02-13T19:00:00-05:00
2018-02-13T22:30:00-05:00
Where:
Church of the Holy Trinity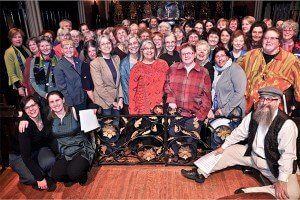 ECHO is a choir of women from all walks of life, all ages and professions based in Toronto, Canada.
The choir is committed to:
inclusive membership,
a rich repertoire,
musical excellence
and passionate expression.
We celebrate diversity in our members and our music. We are a community-based, non-affiliated organization. Echo welcomes any woman who loves to sing and can make the weekly rehearsal commitment.
Our directors are Becca Whitla and Alan Gasser.