When:
December 21, 2019 @ 4:00 pm – 8:45 pm
2019-12-21T16:00:00-05:00
2019-12-21T20:45:00-05:00
Where:
Holy Trinity
10 Trinity Square
Toronto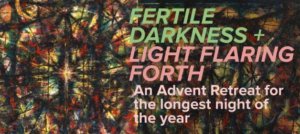 Fertile Darkness and Light Flaring Forth – An Advent retreat for the longest night of the year
Winter solstice is a time we are asked to mark transition in our lives. The longest night asks of us to end our rhythm of the year, and moves us to sing softly a new song. It is a time where we watch the sky meet the tone of the earth. It is a time creation to renew itself. It is a time for us to begin our long wait for its arrival again.
Although this seems like a very inactive period, and we begrudgingly stand before the power of winter, ready to be buried beneath its blanket. We are also able to find examples all around us of the very precious energy this time brings forward. We gather together to recognize, receive, and lift these gifts up to the creator, to sing the song prepared for us, and find our rhythm for the season to come.
Join us this solstice to be nourished in mind, body and spirit. Our community retreat will invite participants into community dialogue, collective art activity, guided meditation, music and song, with prayerful and active facilitation on the themes of the treasures of darkness and the radiance of light flaring forth in our lives.
Facilitation for this retreat is provided by Rev. Joanna Manning, Rev. Leigh Kern, Laur Kelly, Zachary Grant, and Sinclair Bletcher-Lowman
Participants are provided with all necessary materials, and dinner is included in the evening.
The retreat will be followed by a special edition of Lifting Spirits at 9pm — https://www.facebook.com/events/1718378974963399/
To register email Zachary Grant: zgrant@holytrinity.to
Space limited, register by December 15th