When:
February 16, 2020 @ 10:30 am – 12:00 pm
2020-02-16T10:30:00-05:00
2020-02-16T12:00:00-05:00
Where:
Church of the Holy Trinity
19 Trinity Square
Toronto
M5G 1B1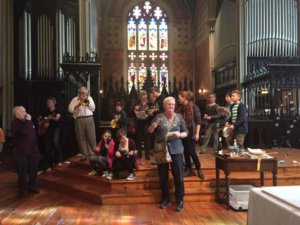 Our worship is active and shared. We are constantly looking for and writing liturgy that reflects who we are as a community.
On the last Sunday of the month, our house band, Fallen Angles, plays the music in a more pop vein, otherwise the music is more typical hymnody accompanied by piano or organ.
A few of the prayers and hymns we use and that we or our members hold rights to are visible in our Hymns, Psalms and Prayers section. A look at the text of a recent service bulletin should tell you something about how we worship.
Because of allergy concerns, we try to keep Holy Trinity scent-free. We would like to have you join or visit with us, but when you come, please refrain from wearing perfume, cologne, after-shave and highly scented personal hygiene products.