When:
November 25, 2018 @ 10:30 am – 12:00 pm
2018-11-25T10:30:00-05:00
2018-11-25T12:00:00-05:00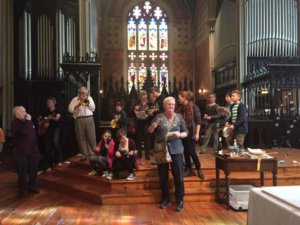 Our worship is active and shared. We are constantly looking for and writing liturgy that reflects who we are as a community.
Once a month, our house band, Fallen Angles, plays the music in a more pop vein, otherwise the music is more typical hymnody accompanied by piano or organ.
A few of the prayers and hymns we use and that we or our members hold rights to are visible in our Hymns, Psalms and Prayers section. A look at the text of a recent service bulletin should tell you something about how we worship.
Because of allergy concerns, we try to keep Holy Trinity scent-free. We would like to have you join or visit with us, but when you come, please refrain from wearing perfume, cologne, after-shave and highly scented personal hygiene products.