When:
October 15, 2017 – October 22, 2017
all-day
2017-10-15T00:00:00-04:00
2017-10-23T00:00:00-04:00
Where:
Aboriginal Education Centre
16 Phin Ave
Toronto, ON M4J 3T2
Canada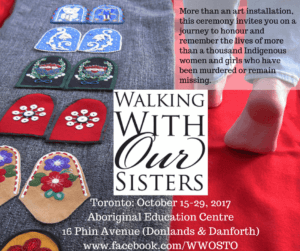 This October in Toronto, there is a very special opportunity to honour and remember the more than a thousand, Indigenous women, girls and Two Spirit people who have been murdered or remain missing. Walking With Our Sisters is a commemorative art installation hosted at the Aboriginal Education Centre, at 16 Phin Avenue, near Donlands and Danforth, from the 15th to the 29th of October.
Walking With Our Sisters is a national community based commemorative project of nearly 2,000 "vamps" — the tops of moccasins that have been intentionally left unfinished signifying the loss of unfinished lives. More than an art exhibit, this ceremony invites you on a journey to remember the losses, to honour grieving families and to work for change.
Together with the Church of the Redeemer, Holy Trinity has supported the project by covering the cost of a print run of promotional buttons that have been used for fundraising.
I hope you can find some time to visit the installation, on your own or with a friend. Taking such a journey is both heart-breaking and community mending.