When:
May 13, 2018 @ 1:00 pm – 2:00 pm
2018-05-13T13:00:00-04:00
2018-05-13T14:00:00-04:00
Where:
555 Memorial Avenue
Orillia
Ontario

Please consider joining survivors of Huronia Regional Centre, at their "Lost But Not Forgotten" memorial.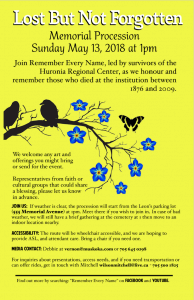 This event is held on Mother's Day because so many children lost their mothers and mothers lost their children to this and other institutions.
We bring flowers, sing and pay tribute – in this place where people were buried without funerals.
People who grew up frightened of being buried there celebrate their freedom.
Survivors demonstrate that it is an important part of addressing and healing trauma to pay homage in this way.
Please consider supporting people by providing rides to Orillia and assisting with logistics.
Please share this invitation and the beautiful poster widely.
Memorial Procession

Join Remember Every Name, led by survivors of the Huronia Regional Centre, as we honour and remember those who died at the institution between 1876 and 2009.
We welcome any art and offerings you might bring or send for the event.
Representatives from faith or cultural groups that could share a blessing, please let us know in advance.
Join us: if weather is clear, the procession will start from the Leon's parking lot (555 Memorial Avenue) at

1:00

. Meet there if you wish to join in. In case of bad weather, we will still have a brief gathering at the cemetery at

1:00

then moved to an indoor location nearby.
Accessibility: the route will be wheelchair accessible, and we are hoping to provide ASL, and attendant care. Bring a chair if you need one.

For inquiries about presentations, access needs, and if you need transportation or can offer rides, get in touch with Mitchell wilsonmitchell@live.ca or 705-500-1825.
[ 

image

 on poster: 2 crows in silhouette sit on a bare tree branch. There are 7 forget-me-not flowers extending from smaller branches. Each flower has 5 blue petals with a yellow and black centre. Amid the flowers there is also a black and yellow butterfly floating just above the branch.]