When:
February 27, 2015 @ 7:30 pm – 11:30 pm
2015-02-27T19:30:00-05:00
2015-02-27T23:30:00-05:00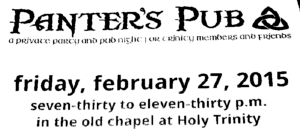 Cost: free, but donations appreciated (just to cover costs of PA rental, engineer, and church heating, and gradual improvements to the party space)

What: A musical pub night for HT members, friends and guests in the old chapel. We'll gather and listen to live music and sing some great songs together, talk, dance and share libations and maybe hatch some plans.
Where: The old chapel of Holy Trinity. A great space, but sadly, not wheelchair accessible. I'm working on it.
Who:
You and any friends you wish to bring. RSVP would be very helpful in planning.

Food and Drink: Pot luck munchies and BYOB.
Entertainment:
Various musical friends and I will be providing an anchor through the night. I
f you want to get up on stage at some point, get in touch with me by Feb 25
and we'll figure something out.
* Ron Panter was a long time member of Holy Trinity, a visual artist and musician. He worked hard on rejuvenating the space we're having the party in and was one of the folks I have played with over the years.