We're a pick-up band of Holy Trinity members, formed to lead our worship music from time to time. We try to keep things fun and lively. Currently, we play approximately once a month at 10:30am on a Sunday. We're open to new players if you wish to join us.
The musical backgrounds of the members are varied and so is the material we tackle. For more information, drop us a line via the contact form on this site.
Yes, it really is Angles, not Angels. It's a bit of a joke on the frequent misspelling of angels and also on the root of the word Anglican.

upcoming services and events
Dec
22
Sun
Fourth Sunday of Advent with the Fallen Angles

@ Church of the Holy Trinity
Dec 22 @ 10:30 am – 11:45 am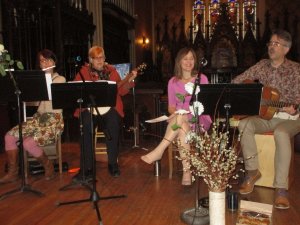 10:30 AM 
Holy Eucharist
Coordinator: Homilist: Musicians: The Fallen Angles About once a month our worship service is led by our local band
Fallen Angles
in a popular vein. The service is generally thematic and uses contemporary music, both popular and liturgical. We quite often vary the readings and sometimes do something completely different. We strive for an integrated experience that affects everyone who comes.
---
some past services and events